Compliance and audit reports
OIC monitors and reports on agency compliance with the RTI Act and the IP Act by conducting audits, reviews and surveys of government departments, local governments, statutory authorities, government owned corporations and universities, in order to measure the extent to which the agencies have achieved the right to information and information privacy reforms. Under the RTI Act, OIC reports on review outcomes to the Parliamentary Committee for Legal Affairs and Safety Committee (LASC), and under the IP Act, reports can be sent to the Speaker for tabling in the Legislative Assembly.
Latest report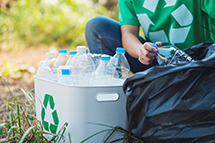 Audit report – Publishing information about waste management
On 29 November 2022, the Chair of the Legal Affairs and Safety parliamentary committee tabled our report on 'Publishing information about waste management' which identifies the information departments must publish about waste management, particularly under the Waste Reduction and Recycling Act 2011 and the Queensland Plan Act 2014.
We assessed whether departments meet these requirements and considered whether the information is easily accessible, beneficial and up-to-date.
Tabled reports