For government
For community members
One of our functions under the Information Privacy Act 2009 (Qld) is to provide a mediatio...
We are now offering training in negotiation skills from 21 to 22 March 2016.
I want to
Popular Guidelines
Documents subject to legal privilege are exempt from release under the RTI and IP Acts.
Sufficiency of search is often an issue on review and may mean agencies need to do additional searches.
While the RTI Act overrides other Acts which prohibit disclosure of information it preserves some of those prohibitions in schedule 3.
Training and events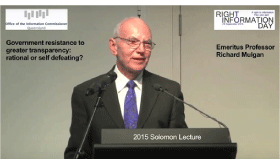 Resources
OIC monitors and reports on agency compliance with the Right to Information Act and the Information Privacy Act.
Our progress against set service delivery targets.